Introduction
WordCamp Madrid 2019 has been my second WordCamp. Well, you have to specify, it's really my first as an assistant, because in the first one they did not think of anything other than to get organized.
I promised in a tweet some time ago, still without entry, that we would go to the Madrid hordes, but I did not imagine that the thing covered more than two half-filled cars. If we know, we rent a microbus.
For me, I went with the Closemarketeros, David and Sacra, who rescued me from a shower that began to fall in Granada just before leaving my house with my suitcase. I arrived like a dripping cop.
I don't think we had 20 minutes in the car when, from a joke of mine about whether David had already started to organize the WordCamp Granada, we were involved in an organizational meeting that didn't end until beyond Madridejos. And that we ate in Puerto Lápice, in the lands of Don Quijote. If that "Those of Graná, be like this, squeeze".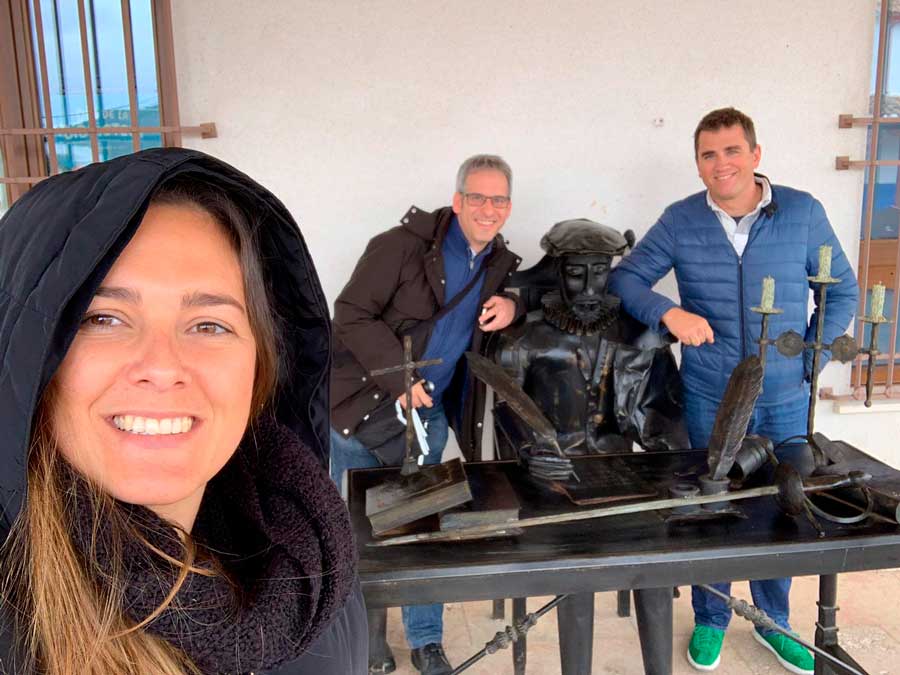 The entrance to Madrid forced us to refine the concentration so as not to end up on the other side. We we stayed in a hotel in Villaverde, next to a building that visually moved us to Dubrovnik in its worst days. All very reassuring.
Sacra was voluntary, and we had to take her to La Nave, since the neighborhood we crossed between the hotel and the venue was "curious." David, as a hyper-responsible boy he is, wanted to see the room where he was bullfighting the next day. Uncle was very nervous with his first talk in a WordCamp, and he didn't want a detail to escape. So we went.
As in many other moments of this WordCamp, we relive that day of assembly of the Tinglao. We met old acquaintances, and it gave us great joy that they were among them Lorena Y Juanma, our ambassadors in Madrid.
In the time we were there we could see the excellent work of the volunteers, which makes all WordCamps possible. There was a lot to do and we didn't want to bother, so we left and met with the other part of the Granada delegation (Antonio Cantero, his girlfriend Inma and Miguel Ángel).
When night fell we decided to go to dinner attendees from Mordor, where we were, to the center of Madrid, where the meeting was held. Madrid is not Granada, and although they have Cabify there, they still do not teleport, so our mania of leaving with 20 minutes of margin there is not going very well, and we arrived an hour late to the place of the appointment. At first we thought there was no one left, but there we find Vanesa, of exprimeviajes and Eduardo Croissier, a very relaxed Canary who liked us very much.
What gives of itself to explain the meanings of some granaínos localisms as "Poll" Y "Squeeze" next to a Cantabrian and a canary. That was all laughs and we had a great time.
WordCamp Madrid
After sleeping just enough, and not necessary, for the day ahead, we got up very early since we took our private volunteer on time.
Disclaimer: Sacra has corrected me, and it is true that she went by taxi. What does this mean? That we are "Squeeze" and we left like the agüelicos when they go to the door of the Dani (granaíno supermarket) to wait for them to open.
But before, the anecdote was that David, a debuting speaker, with the nerve thing, had been awake since 4:30. At about 7 in the morning he asks me if I am awake, we exchange a few instructions regarding communication and synergy from our WPGranada account and he tells me: "This morning I have been making a block" ?
Before your dirty minds begin to machine (I already did it for you), I have to say that David is one of the best Gutenberg evangelizers in the country. So I immediately recovered and understood that the uncle had slept badly and had marked a block of Gutenberg. With two eggs (David, not the block). ?
The first registered
Arriving so early allowed me to have the honor of being the first enrolled in WordCamp Madrid 2019, enjoy the nerves before opening the doors, again, and admire the piece of premises in which we had mounted such an event. At some point they would have the Avengers ship parked there.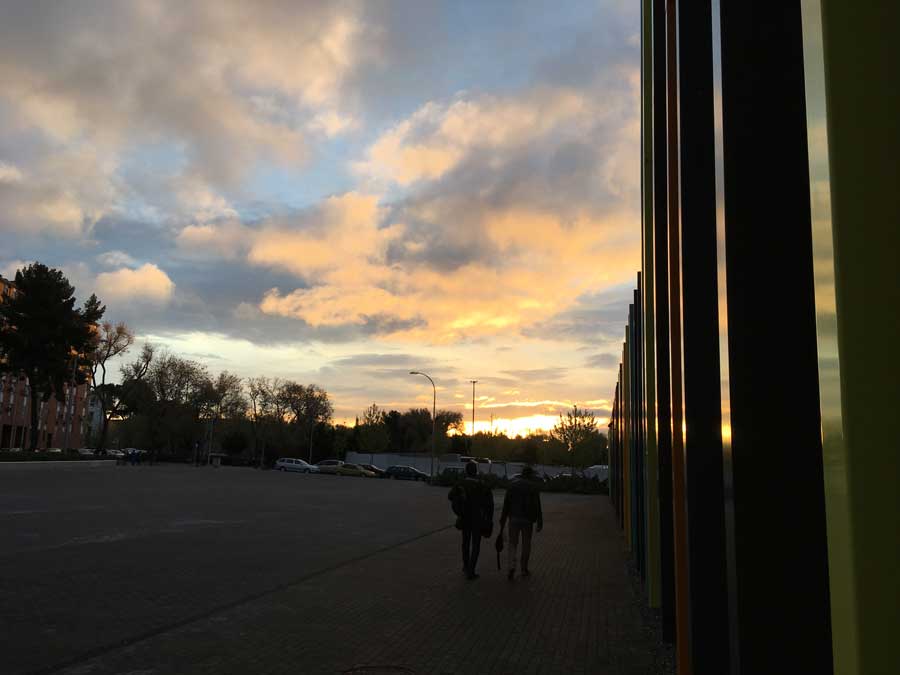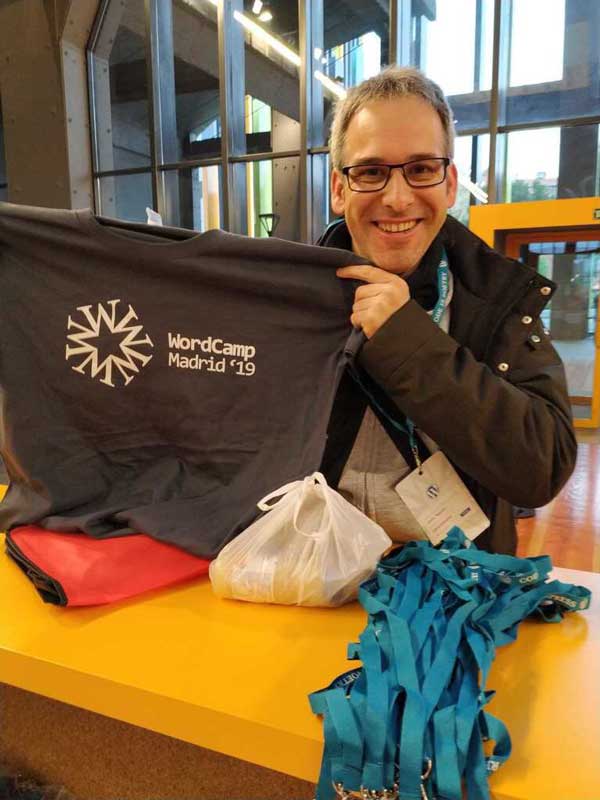 Soon the reunions began, the great Nile Vélez, Sevillian adopted pro and horny wherever they are (although never will be more than Fatima, his holy wife, of which I declare myself a true fan of folder).
Nahuai Badiola, Esther Solá, Bosco Soler, Álvaro Sánchez or Fernando Tellado. Being there with such fantastic people is difficult to manage emotionally, and at the same time they make it very easy.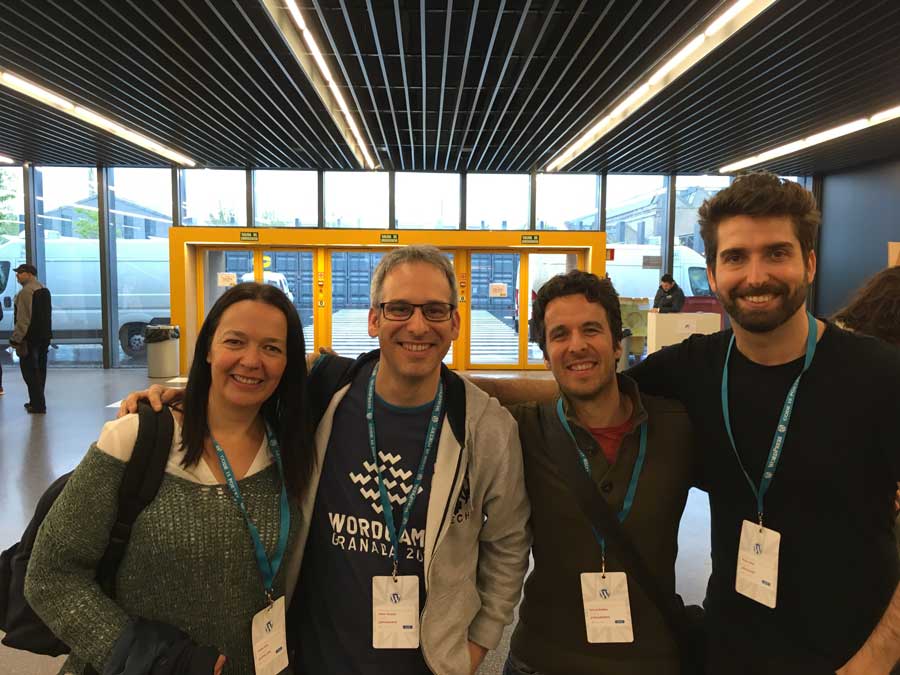 Entrance of the assistants to La Nave

The sponsors within La Nave
Carla excites us
It was time to get into that fantastic auditorium that, in so much concrete, made you want to roll over it and make the croquette.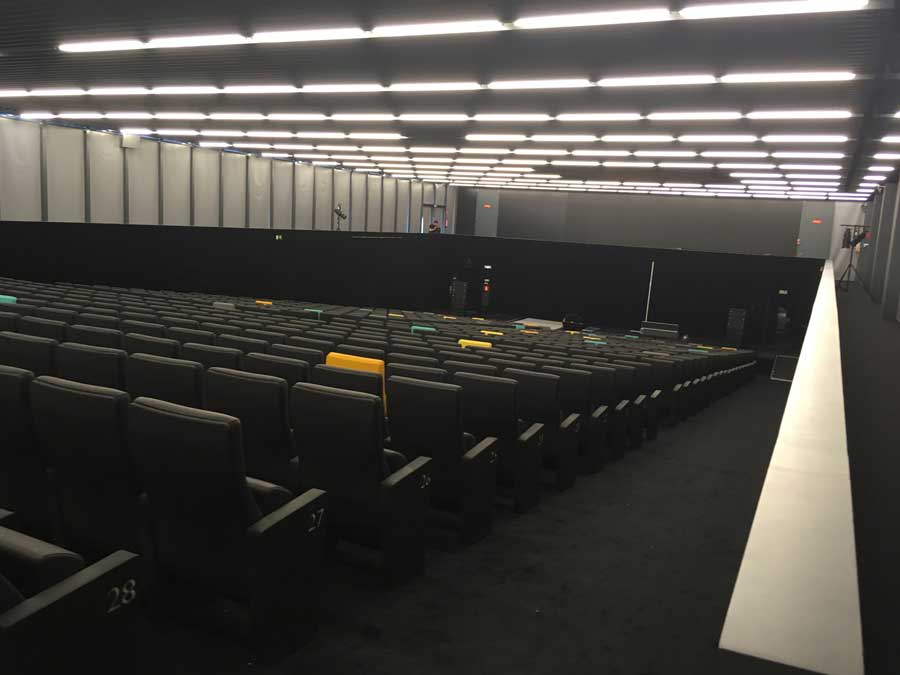 The WordCamp opening made her Pablo Poveda, the leader of this tinglao, who presented the organizing team and gave way to the first talk, by Itziar Sistiaga, responsible for the content of WPLovesCarla. Nervous as she alone, and it is not for less, she told us how the story of Carla Sáiz, which a year ago he was diagnosed with breast cancer. Until then, only those who had been in contact with the WordPress community of Madrid and those who had coincided with it in a WordCamp knew it, but thanks to some WordPress angels led by Mauricio Gelves (how he missed it), Carla entered in our lives and became a goal and a symbol.
His famous tweet in which he thanked the community made us tear all the tear, and many have had us in suspense, following their evolution throughout a year that has had a happy outcome.
In that room, the carpet should have a lot of dust because we all end up with teary eyes. Whore allergy !!!, as Pablo Moratinos says. He also agrees that there must be something there, for whatever reason …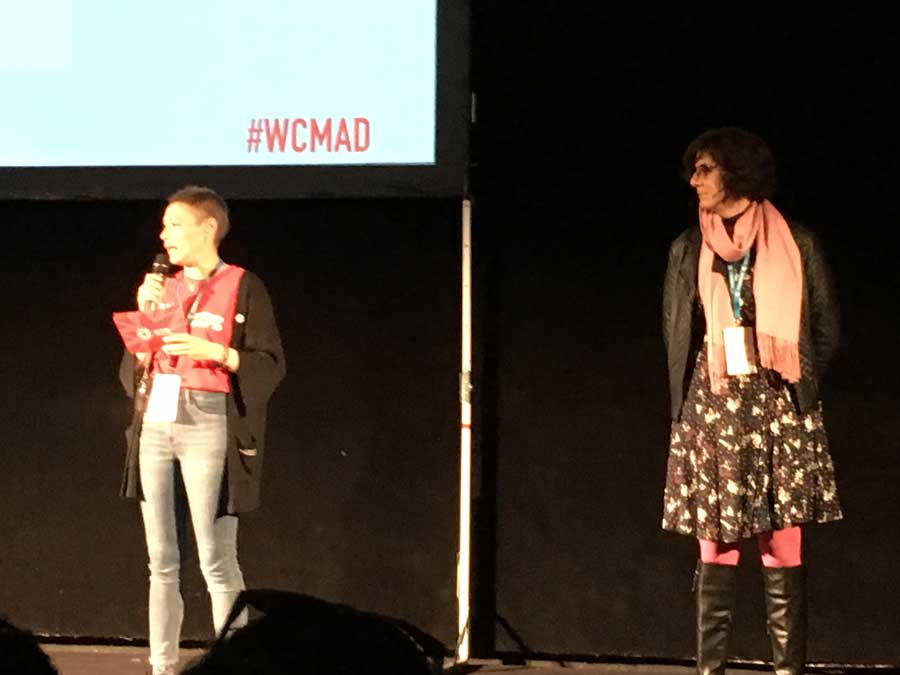 After I had the chance to chat with Carla for a while, what a piece of woman, strong as she alone, or at least that is what she transmitted to me. It was as if he had known her for a lifetime. I loved chatting with her after following her on instagram for a whole year.
And this is the magic of WordPress and its community, feel empathy for other members and meet them without knowing them. Of course, we are wishing, this year, for Carla to come to Granada.
Fuck, here there must be dust in the environment because again it seems that it is giving me the allergy. Whore allergy huh, Pablo?
Anyway, I'm going to decompress this a bit and give way to the talks. Since I don't have videos of dogs fucking like Broncano, I will put this in memory of Materrón, who could not come.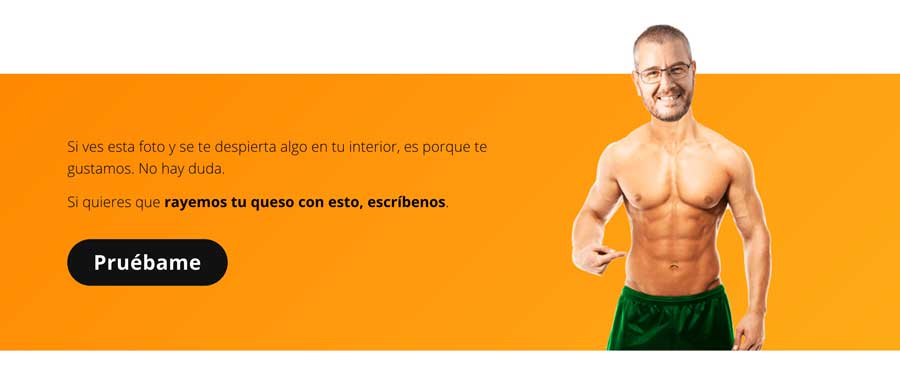 The chats
I will recognize it, I made more hall than talks, but that's what WordPress.tv is for. However, I will remember a little what I saw, since they deserve my dies.
The first thing I did was go to the workshop taught by Victor Saenz and Pedro Crespo, better known as the mowomo boys. Authentic cracks that I managed to follow up to the middle of the talk, because I am not a programmer, even if I "folletee" the code whenever I can, with unsuccessful results. Fantastic with your system to create Gutenberg blocks.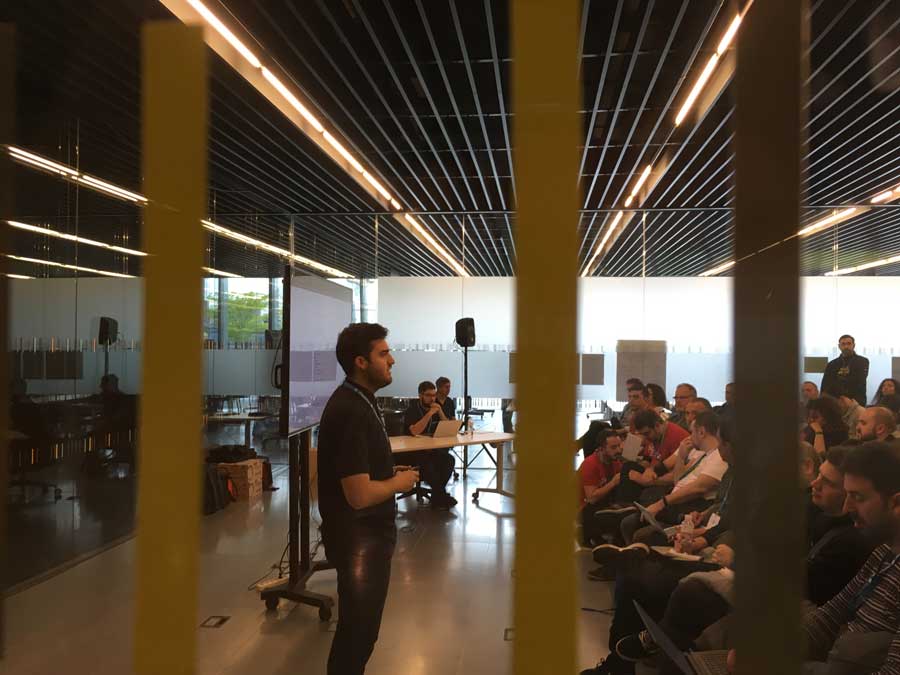 Then they messed me through the halls, Rocío ValdiviaBosco Soler, there were a lot of premium people there and, of course, you see if something sticks. Now, from the memory, I have the feeling that everything happened in a second, and then we were at the talk given by my partner David Pérez, an Indiana Jones clone that He told us what are the best practices to update our plugins and themes with security thanks to GIT. His presentation, based on the famous adventure game "Indiana Jones and the Fate Of Atlantis." He made it incredible, all the nerves that had passed before had disappeared, and he led us from Indiana Jones to the treasure of developing safely with version control.
Then came Álvaro Sánchez's talk ("What do people know …"), sabandijer and better person, than He came to change our lives there everyone in a brutal way. Uncle marked a presentation with two slides, in the purest TED Talks style. What a golden piquito That has the turkey. "Tuita", "What do people know …". Little by little, we were sneaking some sabandijers expressions to change our lives … or not. Meanwhile, He told us how he had seen in the future (wig included) how SEO was going to be from now on.
Of course, Alvaro's was another of the most acclaimed talks by critics and audiences.
The bleach girl came to tell us about the SEO of the future

The "guru" sabandijer Álvaro Sánchez changing our lives
A little more gossip and, suddenly, someone hooks me by the arm and catches my attention: Joan Boluda, take it now. This happens to me a couple of years ago and I fall there collapsed, which fan of the Beetles. He was with other people and I didn't want to interrupt him, we agreed that we would see each other a while later.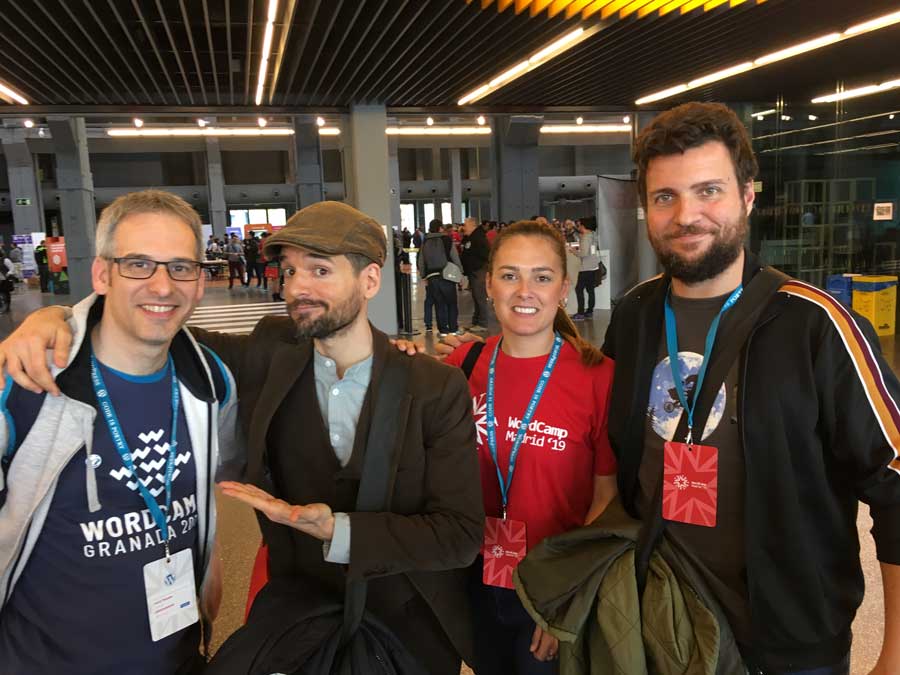 I also saw Francesc Barbero, a great guy, always with his camera in tow, which he put me in one of his instagram stories completely absurd, but they carry their implicit history, sure.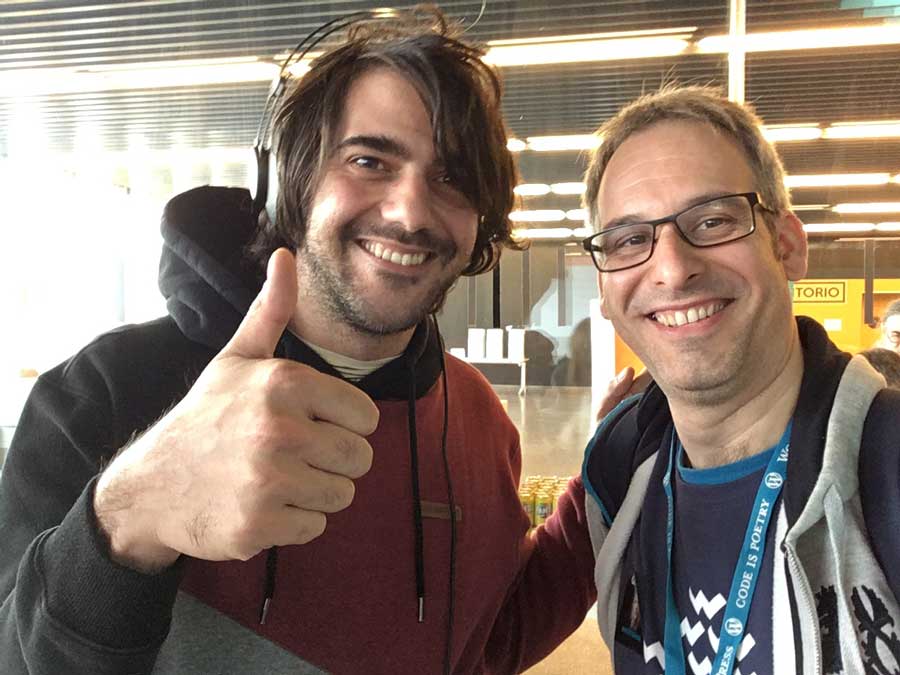 I arrive Joan Boluda's talk, that piece of speaker. I can't help the sound in my head "Good morning and welcome to maaaarketing online, the podcast…".
After it was time for the family photo, in which we feared for the lives of photographers, who hung on a platform, risked their lives to immortalize the moment. They had to lengthen the thing a bit because a workshop was delayed, but at least we did not lose the corneas as happened in Granada. Today I still see red dots swarming.
After one food relaxed, in which we could chat, share, etc, I opted to pasillaar. Chatting with some and with others, especially with Bosco Soler. I have to say that Bosco is the son-in-law that every mother-in-law would want to have, Or at least it seems. It makes me angry to say it, but what an uncle, he has everything, but above all, he is wise. Every time I hear it I learn a lot, it transmits an infinite tranquility and motivates me. I don't know, it will be that it shoots motivational rays or something. The fact is that my conversation with him helped me a lot.
As well I could chat with Joan Boluda (Although I don't know if it was before the meal, I already have gaps), which I caught with Álvaro Sánchez. Of course a luxury, in the EMO it is impossible to chat with him without sucking two hours in line. Well, as we had half the WordCamp Granada organized, I took the opportunity to invite you, which has to guide us on the day of tourism, if we do.
In the end we also get together a few Sabandijers, that this belonging to so many groups, gets to bundle one.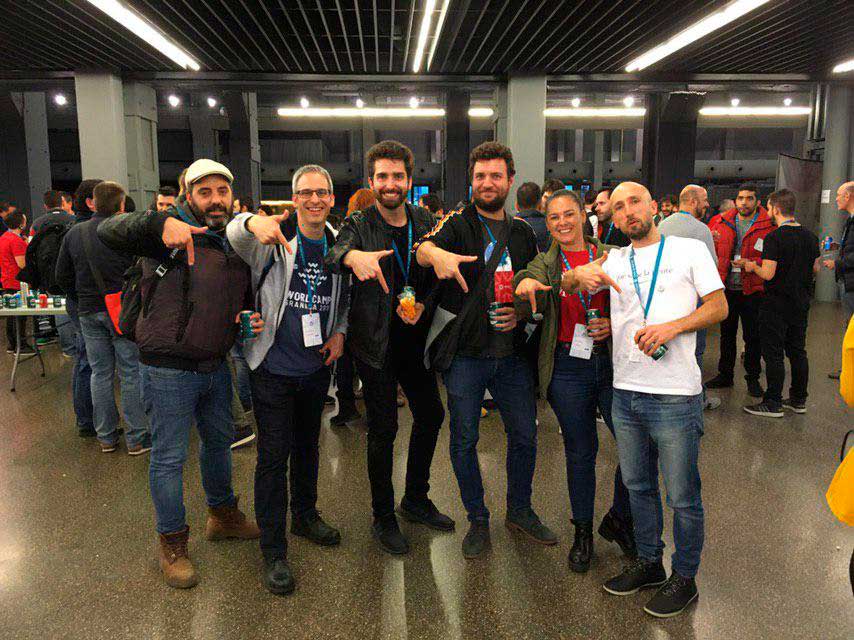 I could not miss Bosco Soler's talk. Another who, as a hyper-responsible uncle, had been very nervous all day, and finally his time came. I do not know what these guys do, they unload their nerves and give a piece of talk that freaks it out. He told us how to launch a project with the minimum in WordPress, enough to validate it. Something that I have to apply yes or yes. This SinSinOficiner will end up being a SinOficiner with a project launched following the advice of the son-in-law most desired by all mothers-in-law.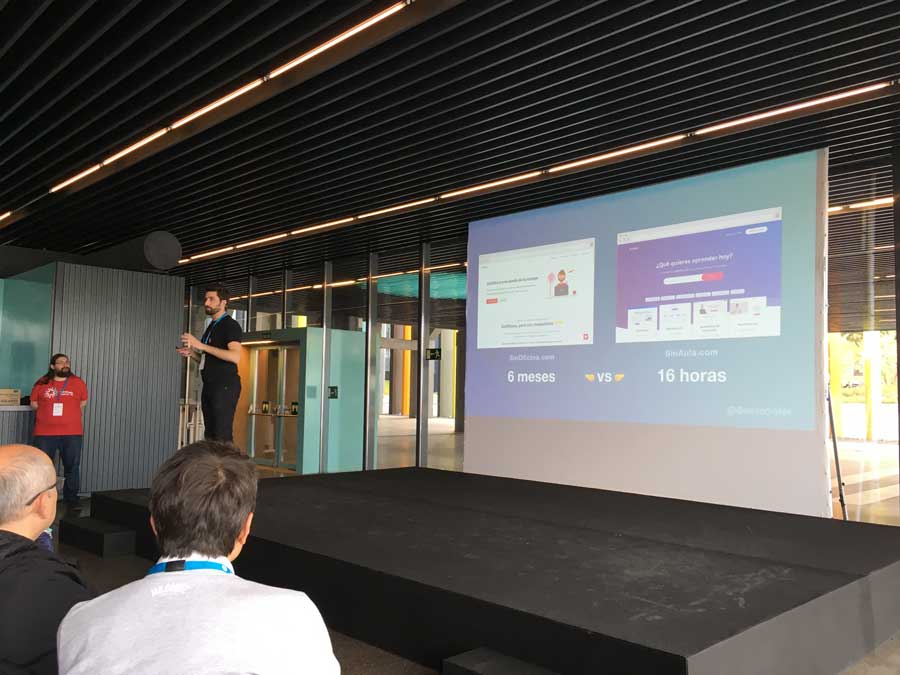 Another little bit of gossip, and to see Juan Hernando, the classic close-WordCamps now. This time without a beret, but what It reminded us of the 12 tips that all WordCamper should keep in mind.
Behind him WordPressera filled the stage with wisdom and tried to elucidate what will be the future of WordPress.
Hall
The hallway is the talk you never get on the show, but what is it essential throughout WordCamp. There are people who do not set foot in any talk, but also return from these events with a lot of things learned thanks to the conversations you can have with the best in the community.
Even the sponsors add value (jo, what a devalued word already in marketing). Well, even with them you learn a lot.
I was thinking of telling here who I had talked to, but I've done it before, so just mention other cracks like Ibon Azkoitia, Nilo Vélez, Rocío, which is a classic hallway, and that if you talk with her, it can also change your life (and not the sabandijer mode). What hand does it have to baffle you and to give you a vision that you would not have seen.
DaríoBF Y Juanka Diaz, two brown beasts of the WordPresser community. Talking with them was great, especially since they told us the ins and outs of the mythical interview with Matías Ventura about Gutenberg, in which the poor man lost kilos of so much sweat.
After party
Once the WordCamp is closed, at least officially, because then comes the Contributor day, immediately after the After Party was held, where we had the opportunity to chat in a relaxed way there. Corrillos, laughs and that strange feeling that the thing is ending and you don't want to.
I could share a good time with Nahuai Badiola, with which I had very interesting conversations about our respective works.
There was a brutal moment, when all the members of Granada met. That was where many of the beautiful things that they had told us, including in this WordCamp, about ours of 2018 materialized. Seeing that team, half of them volunteers (I was left unfortunately), made me feel proud to belong to that piece of community We have here. Almost 20 people had crossed half the country to participate in that great free software party.
At nine, they began to disassemble that, so we had to go. We passed the hotel and the little group in Granada, without David, who was dead and went to bed directly we went to dinner (I was tempted to stay too, but what the hell).
This time to ParqueSur shopping center, the center of Madrid was no longer viable. Total, to hit a tribute in the Foster, we didn't have to go far.
Poor Antonio Cantero climbed the walls of the hunger he had, how bad the poor. We laughed a lot, there we were Miguel Ángel, Sacra, Antonio Cantero, Inma, Antonio Martínez, better known as "barón de la birra", and a server. I think there was no picture at this time, but it is that We were so blind from hunger that we couldn't think of becoming photic.
And what I did not want happened, that we turned to the many, but it was inevitable.
Contributor day
The morning of the contributor day happened to me one of the most surreal things that has ever happened to me in a hotel. I had to fix the cistern. I reserve the details.
At a prudent hour I asked David "What do you do?". "Blocks," he replied. Is it or isn't it to create a Gutenberg medallion for him and Matías Ventura?
After having breakfast and crossing Madrid, it is a good thing that on Sunday the traffic that has (that is, none) is a joy, We took Sacra to Google for Startups, the store where the Contributor was held. As we were not allowed to stay, we went to re-breakfast, and there we were with the boys from Cartagena (although they are from Madrid of origin). With them we shared experiences with the meetups, and it was very enriching.
Quickly we went to the taxpayer's premises and, with Fernando Tellado's presentation, with the included video of "I like the WordPreh", We distribute ourselves at the tables.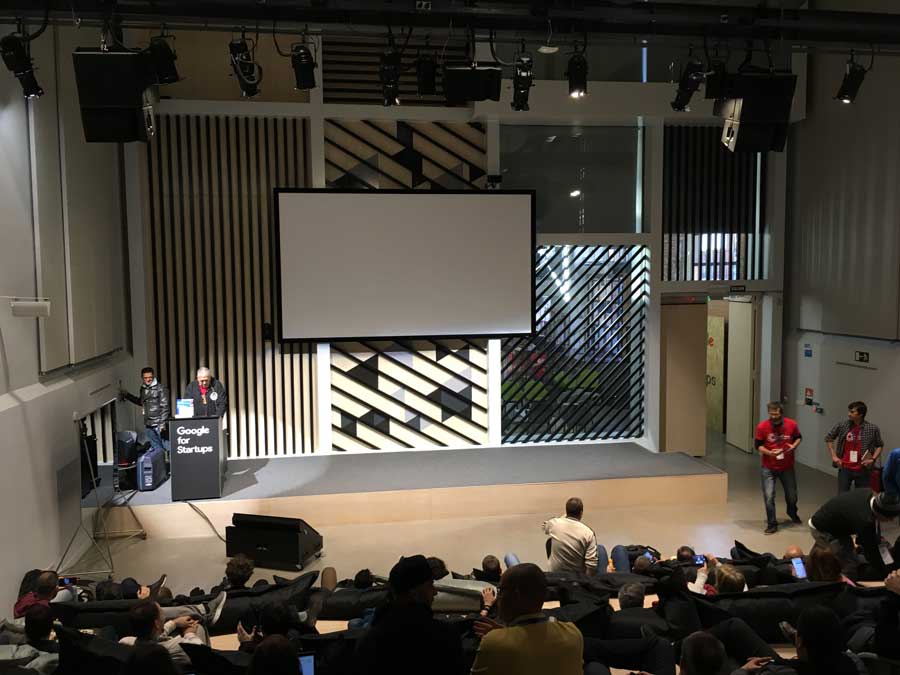 I I went to Marketing, led by Priscilla Bocage, which I could meet in Granada, and what is the WordCamp Zaragoza leader of January 2020.
Here, more than what we could do, it was little because time is limited, and much is going to help the new ones to go through that desert journey that is to create the WordPress.org account and identify themselves in the community slackThe most important thing was the shared time and the new faces we met.
I can't resist putting David's picture next to Matías Ventura, giving the blocks like nobody else on the development table.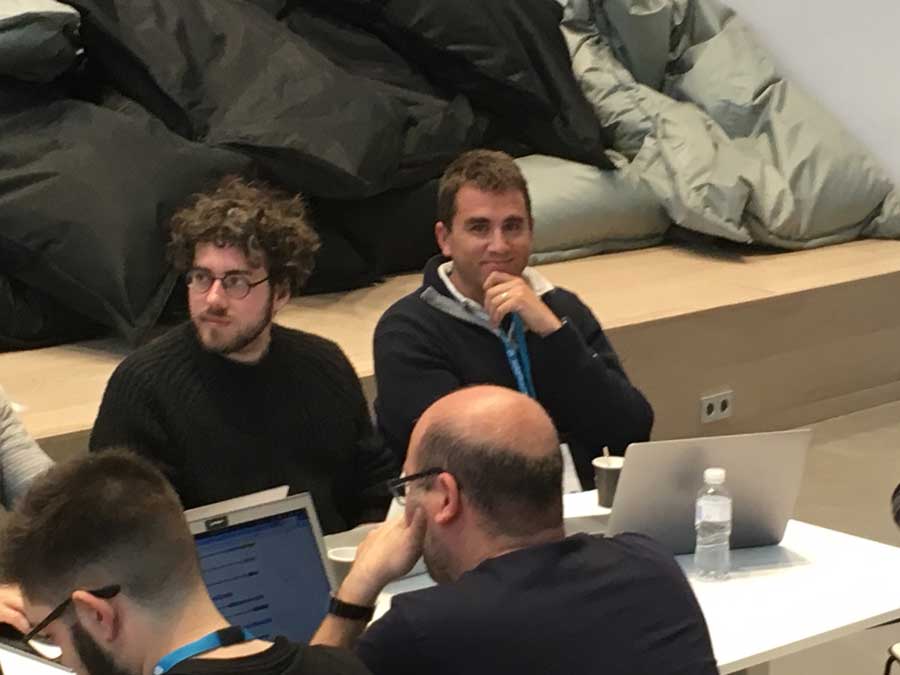 As happened in Granada, the Contributor was frankly short, but hey, work continues at home. It is an act to break the ice and learn to work.
In our case, being such a large table, we were able to experience there directly working for slack, despite having the team people with us.
Noon arrived, the war for the pizzas began, which was quite bloody, and the inevitable goodbyes. In our case we had to shorten, since we had to be at home around 19:00, and there was a long way to go.
This time back with the closemarketeros and with me came Antonio Martínez. Even though we were all more finished than Los Pecos. As soon as we spoke, we dedicated ourselves to listen to podcasts and enjoy the gray and rainy landscape that accompanied us on the return to our beloved Granada.
Final reflection
Like all WordCamps, there were failures and successes, the former remain for the satisfaction survey, and there were very few. The second I would like to highlight them. The first the work and determination that all the members of the organizing team have put as well as the volunteers. Without them it would not be possible. We must always remember: here nobody wins a hard time with this, but they put many hours of their lives so that a bunch of people pass by a fantastic weekend.
Moving 600 people must be a titanic task that makes me feel a lot because we are about to embark on a similar company. After having organized a WordCamp and having attended it, which I will always remember with love, I now feel much more clothed to get into the new adventure that is presented to us this year together with the WordPress community of Granada.
I can only say, "Thank you Madrid. I look forward to coming back next year. ".