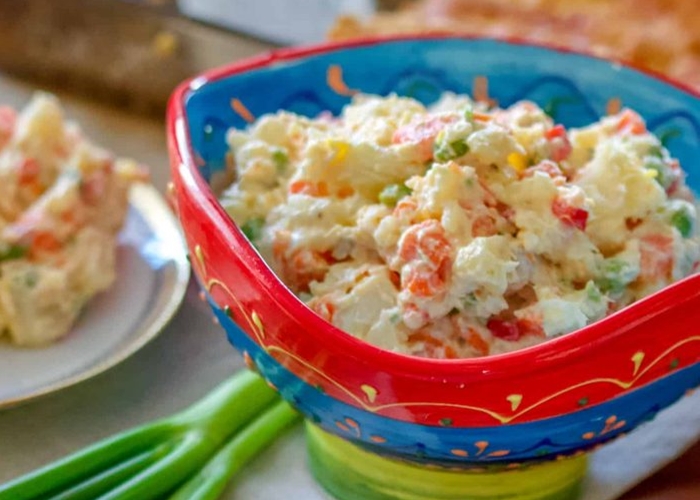 Russian salad is one of the most common dishes in any Spanish tapas bar, and there are those who love him and those who hate him. I am a big fan of Russian salad and I often add other ingredients not as conventional as fresh and tender shrimp. If you want to learn how to make this recipe, take note of the ingredients and elaboration step by step.
You may also be interested: Poultry mayonnaise, step by step recipe
Ingredients
1 kilo of potatoes
½ kilo of carrots
½ kilo of green beans
¼ kilo of peas
¼ kilo of beet
1 tablespoon capers
3 eggs
Salt and freshly ground black pepper
Mayonnaise
one. For prepare the Russian salad, wash the potatoes and put them in a pot, cover with cold water and a pinch of salt. Boil them until they are tender; Don't cook them too much or they'll fall apart. Let them cool completely, remove the skin and cut them into cubes.
two. Place the beets in a saucepan with cold water and a little vinegar or lemon juice and boil until tender, for at least an hour. Then rinse with cold water. The skin should come off easily. Reserve some beet to decorate the Russian salad if you wish.
3. Peel the carrots and then add them in a pot with cold water. Bring to a boil and remove from heat when they soften. Put them under cold water and cut them into cubes.
Four. Boil the green beans until they are cooked and cut into dice.
5. Boil the peas until they are cooked.
6. Boil the eggs for 10 minutes. Let cool, peel and chop.
7. In a large bowl, mix all the ingredients with a little mayonnaise and decorate the top of the Russian salad with beets and capers.
We recommend you read: Potatoes with lactonesa (eggless mayonnaise), step by step recipe
As the name implies, Russian salad has its roots in Russia, to be exact in Moscow. This is where chef Lucien Olivier invented this elegant version of a potato salad while working at the Hermitage restaurant. Unfortunately, Olivier was so reserved that the original recipe was brought to the grave, but food historians believe it carried expensive ingredients such as venison and caviar.